Meet the social robots team!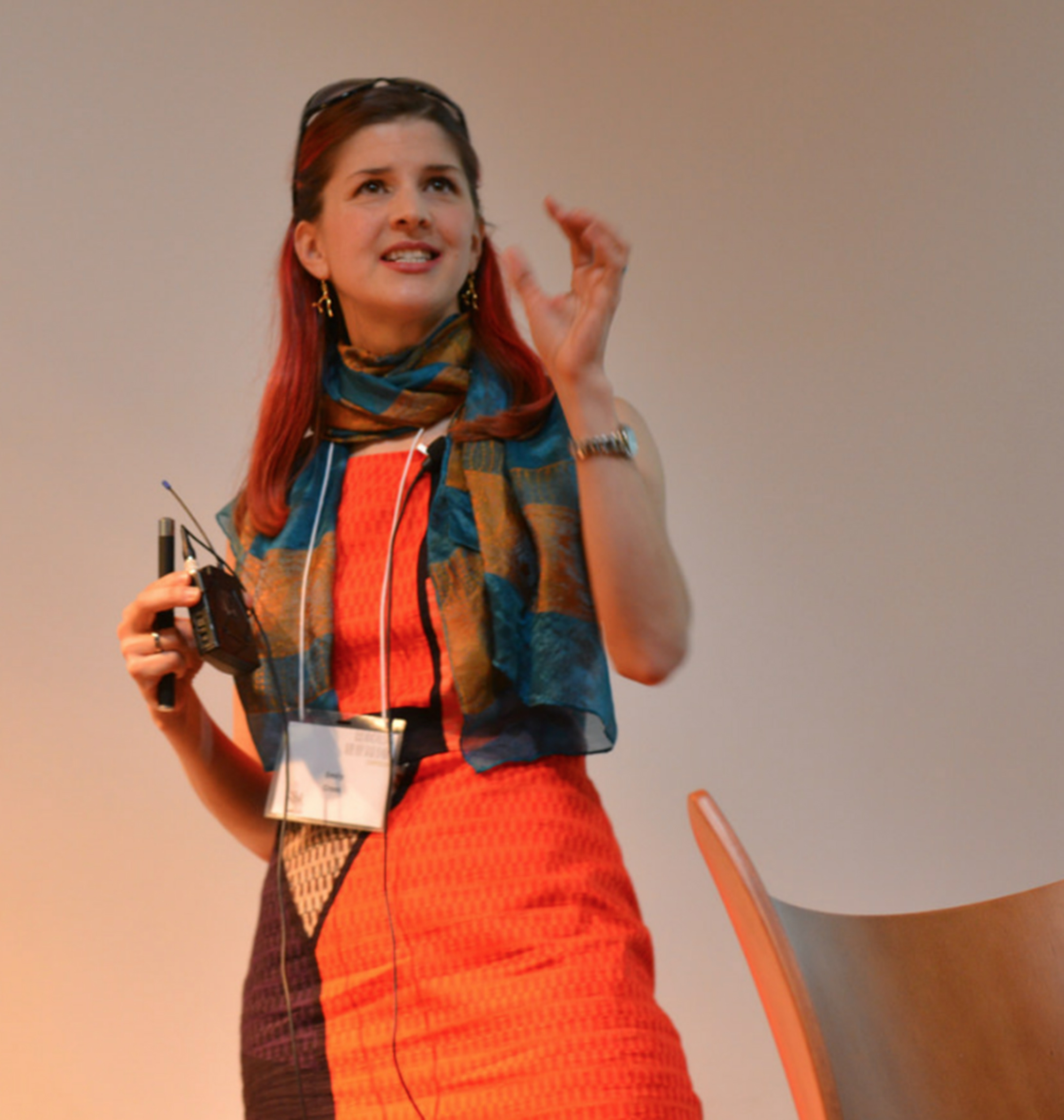 Emily is a professor of social robotics at the University of Glasgow and an honorary professor of cognitive neuroscience at Bangor University. She co-directs the Social Brain in Action Laboratory, and also serves as the Principal Investigator of the ERC-funded Social Robots project. Emily completed her PhD with Scott Grafton at Dartmouth College, and then worked at the Max Planck Institute for Human Cognitive and Brain Sciences (Leipzig, Germany) and the Behavioural Science Institute and Donders Institute for Brain, Cognition and Behaviour at Radboud University Nijmegen (Netherlands). Emily has been building and collecting robots since a young age (more aesthetically interesting than functional ones!), and looks forward to helping chart the course to peaceful coexistence with our robotic overlords of the future.
PROGRAMMER & TECHNICAL GURU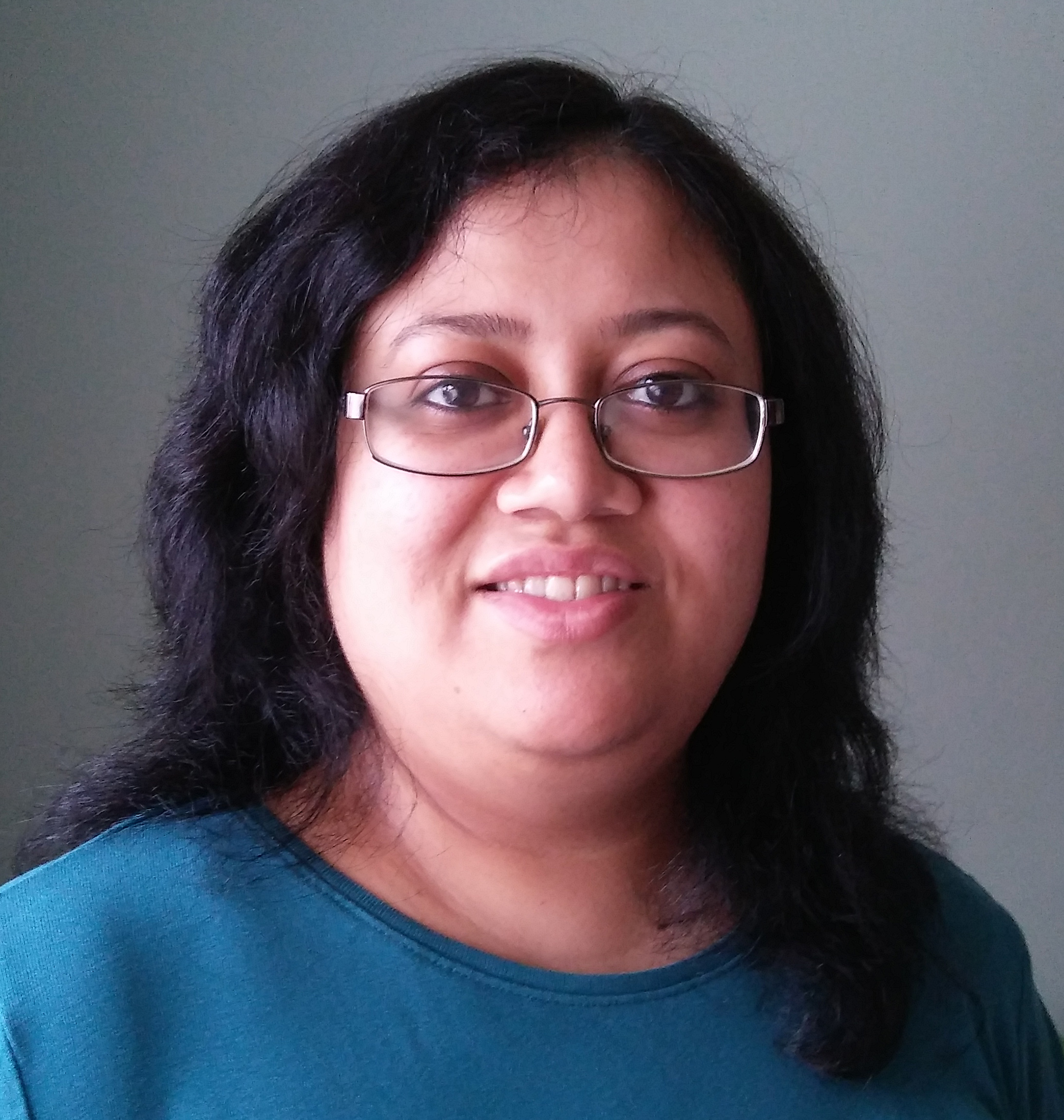 Bishakha comes from the city of Kolkata in India. She has a BSc in Computer Science from Fergusson College (Pune, India), a Masters in Computer Application (Chennai University, India) and Masters in Virtual Reality and Computer Graphics from the University Of Sussex (UK). All the computer games she played while growing up piqued her interest in virtual reality, computer gameplay and artificial intelligence. Her masters dissertation and the game mods and demos she made ensured her a career in the games industry in London. She worked mainly as an AI programmer and was responsible for AI racers and developing variety in the characteristics of non-human players. After this, she joined a team working on computer-aided orthopaedic surgery, where a robotic hand was used for performing precision hip and knee surgery. She then followed her family to scenic North Wales and worked in the local IT industry for six years as a senior developer and technical analyst. As she was looking for an opportunity to return to AI and robotics, the Social Robots project was the perfect opportunity for her to do so. In her spare time she likes reading, going on hikes, dabbling with paint, and on those rare sunny days, taking her two boys to the beach.
POSTDOCTORAL RESEARCH FELLOW
Ruud, a Dutchman, obtained his PhD under supervision of Prof. Beatrice de Gelder at Tilburg University, The Netherlands. Before that, he completed a BSc in Social Work, a BSc in Psychology, an MSc in Cognitive Neuroscience at Utrecht University, The Netherlands. In his research he investigates the neural mechanisms of positive and negative social interactions. He continued to explore these topics as a postdoctoral researcher on Dutch and South African soil at Maastricht University and the University of Cape Town. Excited by the unique insights robots offer human psychology and neuroscience, he is eager to explore the dynamic social interactions between robots and less robot-like beings. In his spare time, he is an avid reader, emerging hiker, and an unapologetic Smiths enthusiast.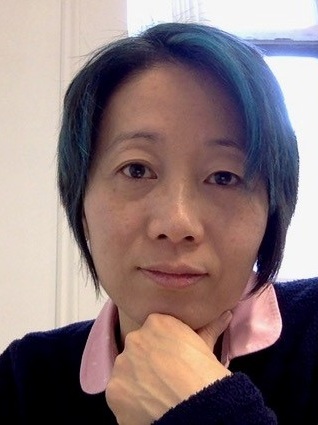 Originally a developmental psychologist with core interests in social cognition, Maki gained a Ph.D. on theory of mind and sarcasm in preschoolers and then worked on autobiographical memory in infants (Lancaster), sandwiched with a lectureship (Manchester) in between. Following a career break to raise a family, she hopped to health research on analysis of telephone consultation with NHS 24 and an online intervention for dentally anxious children (St Andrews and Dundee) and more recently around mental health, children and technology (IHW, Glasgow). She is excited about her adventure with Social Robotics where she can revisit and nurture her set of skills from past research as well as reflect her experience of arriving in the UK as an undergraduate from Japan where she was born and brought up.
Being a busy mum of two human children and a lovable/handful canine baby, her life and work are constantly intertwined, which she considers one of the greatest blessings of being an academic. When time allows, she likes to play tennis, go for walks on hills and mountains, or make/mend things with hands, from cooking, baking or sewing.
Guy comes from sunny Tel Aviv, Israel, where he completed his bachelor studies in Communication Science at the Interdisciplinary Centre Herzliya (IDC), specializing in interactive communications. During his studies Guy was a member of IDC's media innovation lab (miLAB), developing robotic prototypes and mobile applications to study their influence on human behaviours. Eager to continue exploring, Guy conducted his Research Master's studies at the University of Amsterdam focusing on human-agent cooperation, personalized interactions, and the role of discourse in agents' embodied cognition.
Guy is pursuing his PhD as an ESR member of ENTWINE, the European Training Network on Informal Care, a Marie Skłodowska-Curie Innovation Training Network (ITN) funded by the European Union. His research examines how caregivers disclose their emotions and needs to social robots, and how these, in turn, can reduce caregivers' stress and burden. This project is aimed at developing personalized solutions, interventions, and recommendations to support and promote caregivers' well-being using social robots.
In his free time, Guy enjoys spending time in the mountains hiking, snowboarding, and photographing.
Originally from the cold and rainy north of Germany, Anna completed a BSc in Psychology at the University of Konstanz, where she developed a passion for neuroscience and all things brain related. She left for the Netherlands in 2015 to pursue a Master's degree in Cognitive Neuropsychology at the Vrije Universiteit Amsterdam, exchanging her running route along Lake Constance for the Amstel river. Topics she is interested in include (but are not limited to) empathy, emotion regulation and our social (as well as antisocial) brain. Besides neuroscience, she likes to explore as many bookstores as she can, always leaving with a book (or two), British TV shows, and taking lots and lots of pictures on travels abroad. Anna is excited to join the Social Robots project in September 2017, to find out more about the underlying neural mechanisms of socializing with our robotic friends. After getting acquainted with them in graphic novels, movies and books, she cannot wait to delve into the intricacies of interacting with robots in real life, upgrading from science fiction to science.
Originally from the northern town of Oswaldtwistle, Katie moved to sunny Cornwall to study Marine Sciences and the innovative technologies used in the Renewable Energy sector. She then turned her attention to how technology can be used to help people more directly and began her studies at Bangor University. Katie studied BSc Psychology with Neuropsychology whilst volunteering in a number of the research labs, then an ESRC funded MSc in Psychological Research. Katie is excited to continue her studies at the University of Glasgow, undertaking an ESRC Industrial Strategy Studentship under the supervision of Prof. Emily Cross. Her PhD will aim to better understand the role social robots could play in healthy independent ageing, and how our attitudes and perceptions of robots might change over time. When Katie isn't dancing or bouldering, she enjoys watching the documentaries of Louis Theroux and attempting to cook.
Te-Yi grew up in the hustle and bustle of Taipei, and completed a BSc in Psychology at Chung Shan Medical University and came to the beautiful North Wales for her MSc at Bangor University. During her Masters in Psychology Research, Te-Yi developed a great interest in human-robot interaction (HRI) and investigated people's responses to a social robot's negative emotions in a competitive game. Such research experience also inspired her to keep pursuing the passion in this field. She is now undertaking an ERC funded PhD in Neuroscience and Psychology under the supervision of Prof. Emily Cross at the University of Glasgow. Te-Yi strives to understand how human minds respond to human-like artificial agents from both cognitive and social psychology perspectives, in order to gain insight into our mental processes and also to see what psychologists can do to bring about ideal HRI. In her spare time, she likes to read, paint, watch movies, and is recently an amateur translator.
Laura is an American who moved to the UK from the City of Brotherly Love, Philadelphia, and joined Professor Cross' lab in 2018. Prior to pursuing a PhD, Laura worked in several research institutions around the US and has also worked as a registered Educational Psychologist in the UK and US.
Laura is interested in understanding more about how humans and robots interact in social situations and whether, under certain conditions, humans may perceive that a robot "has a mind of its own." Further, she would like to understand how these perceptions might be different across the lifespan, between cultures, and between those with typical and atypical social development. Laura is thrilled to be joining the Social Robots Lab! She will be working on a Social Robots project to understand more about the neural mechanisms involved in various human and robot social interactions.
In her free time, she enjoys cooking, gardening, diy projects, and getting outdoors (especially, along the coastline or in the mountains).
As a born and bred Scottish lass, Rebecca has spent the past 5 years completing her BSc and MSc studies in Psychology at the University of Glasgow. She is very excited to continue her journey there as a new member of the SoBA Lab on an ESRC-funded PhD under the supervision of Professor Emily Cross. Her love of classical ballet and passion for social psychology were the driving forces behind her interest in how individuals identify emotion from the body in motion. She will be exploring this area further with the SoBA Lab and is looking forward to implementing the ideas with the help of her new robotic friends! When not in the lab Rebecca can be found brunching with friends, attending life drawing sessions, preparing choreography to teach to her ballet class or searching the west end for pugs to cuddle.
Henry recently switched over to the so-bots lab from a PhD in philosophy of cognitive science at the University of Warwick where his research focused on computational models of motor control in individual and joint action. At the end of 2017 and into the summer of 2018 he worked as a researcher at the Cognitive Robotics, and Interaction Lab at the Italian Institute of Technology in Genoa, Italy under the supervision of Dr. Alessandra Sciutti and Dr. Francesco Rea. This year he will begin a PhD in social robotics under the supervision of Prof. Emily Cross as part of the so-bots lab in Glasgow. His research interests lie at the intersection of neuroscience, robotics, and computer science. Specifically he is interested in the computational modelling of social cognitive function in human-human and human-robot interaction and the development of these models into workable frameworks for applications in real-world robotics platforms. His secondary interest is in the application of machine learning in this area and how Bayesian deep learning in particular can be used to shed light on questions of implicit communication in social interaction between humans and robots.In his spare time Henry enjoys running, cooking, and playing video games. He is also an avid and unashamed player of Dungeons and Dragons and hopes to one day be the owner of a fleet of giant dogs.
Katerina would describe herself as a figurative zombie in that she's immensely interested in brains in a non-carnivorous fashion. Having a bachelor's degree in Philosophy and Psychology, she's fascinated by the overlap between the mind and the brain, and particularly the neural mechanisms behind the phenomenology of experience. Katerina is a proud member of the SoBA lab, as she believes that the study of artificial agents is catalytic for the study of human (and –hopefully in this lifetime- artificial) consciousness. As an MSc student at the University of Glasgow, she is exploring a core aspect of human-robot interaction by investigating the activation of the Person Perception Network and the Theory of Mind Network after interaction with a robot. She also collaborates with the Donders Institute for Brain, Cognition and Behaviour, researching the safe integration of robots in society. As a Greek living in Glasgow, Katerina compensates for the heart-wrenching lack of sun through performance art, painting and photography. When she's not found asking "yeah, but why?" in a variety of social contexts, she also enjoys hiking and cult cinema.
Of Welsh and Brazilian origins, Isabella grew up in Oxford and studied Medicine before moving to bonnie Scotland to complete an MA in History of Art with Psychology at the University of Glasgow. Isabella has worked in healthcare research for the NHS and University of Oxford whilst pursuing vocational level ballet training. She recently completed her RAD Advanced 1 classical ballet qualification at the Conservatoire of Scotland and is working towards Cecchetti Advanced 2. Isabella has a long standing passion for the brain sciences and aesthetics, with interests including (but not limited to): social bonding and emotional responses in movement-making, creative interdisciplinary collaborations within dance, the mechanisms underpinning memory and motor learning in highly trained individuals and the health benefits of movement practices and interventions across the lifespan. She is very excited to be joining the SoBA lab to explore human-robot movement as part of her Psychology MSc. In her free time, she enjoys social latin dancing, cycling, making nature themed paper cut outs, reading and being outdoors, especially mountain hiking (including a volcano recently!)
After just having finished her Bachelor of Science in Psychology in beautiful Osnabrück, Germany, Hanna arrived at the SoBA lab eager to get some more hands-on research experiences before going back and starting her Masters. Gaining her first experiences as a research assistant in Social Psychology, Hanna is now eager to extend her knowledge and take a closer look at the brain (be it fMRI or fNIRS) and understand its mysterious ways. After her wanderlust and special interest in cross-cultural psychology brought Hanna to South Korea's buzzing capital Seoul and to the dense jungles of Costa Rica for an internship on cross-cultural developmental psychology, she now got washed ashore in Scotland's (unofficially) coolest city Glasgow to learn more about the social brain, neuroimaging and research life in general. When not in the lab or the library, Hanna enjoys being outdoors, hiking, exploring new places on her bike and getting a taste of the local cuisine or enjoying the precious moments of Scottish sun.
Luca is originally from Hannover, Germany and is in the last year of her Bachelor of Science in Psychology at the Private University of Applied Sciences Göttingen. She came to Glasgow for a research internship as part of her DAAD Rise Scholarship and is spending the summer working on a fNIRS and fMRI study in the lab. During her Bachelor's degree, Luca developed an interest in neuroscience and is looking forward to pursue her Master's in cognitive neuroscience in the Netherlands. Luca is still figuring out what field of research she is interested in, but for now she's just trying to learn as much as possible about the brain, behaviour and cognition. In her spare time Luca can be found outside (preferably at the ocean), going out, laying around in the sun or admiring dogs in the park.
Born and raised in Berlin, Germany, Martin is currently attending Humboldt University as an undergraduate, majoring in computer science. Between 2018 and 2019, he already had the chance to attend UC Santa Cruz in sunny California through the UCEAP exchange program and learn about the differences in academic life around the world. For his time in Glasgow, he is eager to explore academic research in Psychology first-hand and to learn more about how humans and robots interact socially. In particular, he hopes to apply his computer science background to contribute to the research being conducted at the SoBA lab from a different perspective. In his spare time, Martin is passionate about music, enjoys playing the drums and the guitar, as well as discovering new artists and going to their shows. He also enjoys going on hikes, playing football and working on personal programming projects.
Merel Bekking is a contemporary product designer from The Netherlands. In 2012, she graduated from the Utrecht School of the Arts (NL). Merel likes to work on bigger design thinking projects involving cross-sector collaborations. These big research projects are more focused on questions rather than solutions or products. She collaborated with plastic producers, South African artists, traditional Sotho wavers, taxidermists and neuroscientists. Her work has been funded by the Creative Industries Fund NL, Creative Action Llandudno and the K. F. Hein Fonds, and is developed on her own initiative and in commission. Merel has exhibited and presented at the Milan Design Week, Dutch Design Week, DIY Berlin, the World Architecture Festival in Singapore, and more. Between 2015 and 2016 Merel was working and living in Cape Town (South Africa), and in the beginning of 2017 she relocated to Bangor, North Wales. Merel is very excited to be collaborating with the SoBA lab on the Social Robots project and work together on the exciting robotic petting zoo.